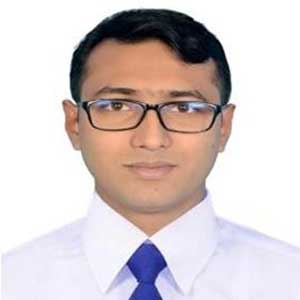 Engr. A.S.M. Shakil Ahamed
Lecturer
BSc (IUBAT)
Room #812 | Ext # 177
E-mail : sahamed.cse@iubat.edu
A. S. M. Shakil Ahamed, a native of Khulna, Bangladesh, embarked on a remarkable academic and professional journey. Having completed his SSC and HSC education at the distinguished Military Collegiate School in Khulna, he pursued a Bachelor of Science degree in Computer Science and Engineering at IUBAT.
Upon obtaining his undergraduate degree, Mr. Ahamed commenced his professional career as a Junior Software Developer at Snowtex Group in August 2020. His dedication and commitment to the field led him to further his career by joining Ha-Meem Group as a Software Engineer in September 2021. Simultaneously, he returned to his alma mater, IUBAT, as a Lecturer in January 2022, where he shares his profound passion for programming with aspiring students.
Throughout his academic journey, Shakil Ahamed actively participated in numerous programming contests, cultivating his deep-rooted passion for coding. His professional expertise primarily revolves around the development of web applications, utilizing technologies such as ASP .NET and .NET Core. Beyond his professional pursuits, he possesses a profound interest in the realms of Machine Learning and Computer Vision, reflecting his aspiration to explore cutting-edge technologies. He is also a member of the Institution of Engineers, Bangladesh.
Currently, Mr. Ahamed is pursuing his Master's degree at the Islamic University of Technology (IUT), underscoring his commitment to continuous learning and advancement in the ever-evolving field of technology.