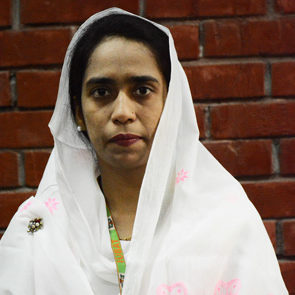 Arifa Tur Rahman 
Assistant Professor
MSc (JU),BCSE (IUBAT)
Room # 420 Ext # 414
E-mail : arifarahman@iubat.edu
Arifa Tur Rahman has born in Mymensingh, Bangladesh in 1980. After completing her SSC and HSC, she admitted herself for higher study at IUBAT in Computer Science & Engineering discipline. She has completed her MSc in Computer Science and Engineering from Jahangirnagar University.
When graduation is completed she joined as a Faculty member in IUBAT. She is teaching at IUBAT since January 2008.
Her interested meadow is to research. She is the organizer of inter and intra university programming contests as well as she was the member of IUBAT programming team.