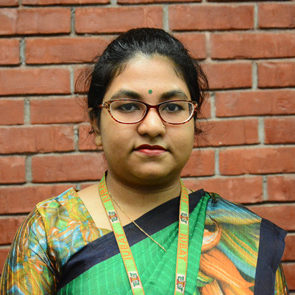 Camelia Sinthia 
Senior Lecturer
BCSE (IUBAT)
Room # 512 Ext # 232
E-mail : camelia@iubat.edu
Camelia Sinthia, She was born in Bangladesh. Camelia Sinthia completed BSC with CGPA 4.00 out of 4.00 in Computer Science & Engineering from International University of Business Agriculture & Technology in 2015. She has completed her HSC with GPA 4.90 & SSC with GPA 5.00 out of 5.00 from Mollartek Udayan Higher Secondary School & College, Dhaka.
Before joining here as an all time faculty, she held the position of Intern at Gradient IT Solutions Ltd. She has interest in Software part. Her main areas of research interest are education and research.
Now She is currently as an Asst. Lecturer, Dept. of CSE, at IUBAT, since 1st March 2016.